Update 2020
Application Notifications (2020)
Applications received after February 29, 2020, will be considered for admission to the 2020-2021 program with a start date of July 2020. Selected candidates will be notified by email approximately one week before the respective start date.
U.S. F-1 students should check with the Designated School Official at the International Student Office of their school (or their own personal immigration legal counsel) to see if participation in this Program would constitute a violation of their F-1 status. A violation may not only impact a student's ability to continue with their F-1 studies but may also affect his or her eligibility for future U.S. immigration-related benefits.
The application will be automatically saved, you can leave at any time and come back later to continue your application
Who's a Microsoft Student Partner
From wikipedia:
"The Microsoft Student Partners is a worldwide recognizable program to sponsor students majoring in disciplines related to technology. The MSP program enhances students' employability by offering training in skills not usually taught in academia, including knowledge of Microsoft technologies."
Simply  the Microsoft Student Program is a great way for students to get involved in the world of technology. It's a great program by Microsoft to empower students who are passionate about Microsoft technologies.
Microsoft Student Partners do incredible things:
Run workshops and hackathons
Host tech events and give demos on campus
Work alongside Microsoft professionals, assisting them during hackathons and events
Join exclusive Microsoft training events to learn the latest technologies
Grow and nurture a community of students and faculty on-campus and online
Enhance their skills and career opportunities
Get amazing jobs
And much more….
Perks of being an MSP
This is a question that is asked by most students about the program. Is it worth something being an MSP?. Why MSP?, Let's find out….
Exclusive event invitations

Being an MSP will increase your chances for being selected in Microsoft invite only events, conferences and meetups. You can meet amazing people in these events.
Free MSDN subscription
This is one of my favorite perks being an MSP. Being an MSP, Microsoft will give you a free MSDN (Visual studio enterprise) subscription (Which costs around $5,999). It will give you access to all Microsoft products for free. You can easily download and use genuine Microsoft products from your MSDN subscription portal. You can get up to 5 genuine serial keys for most products completely for free. What I liked most about the MSDN subscription is that it gave me Visual studio Enterprise and Windows 10 Enterprise for free. It also includes free tons of Azure credits to run up to 3 high end VPS VMs simultaneously. It also offers one to one support on all Microsoft products.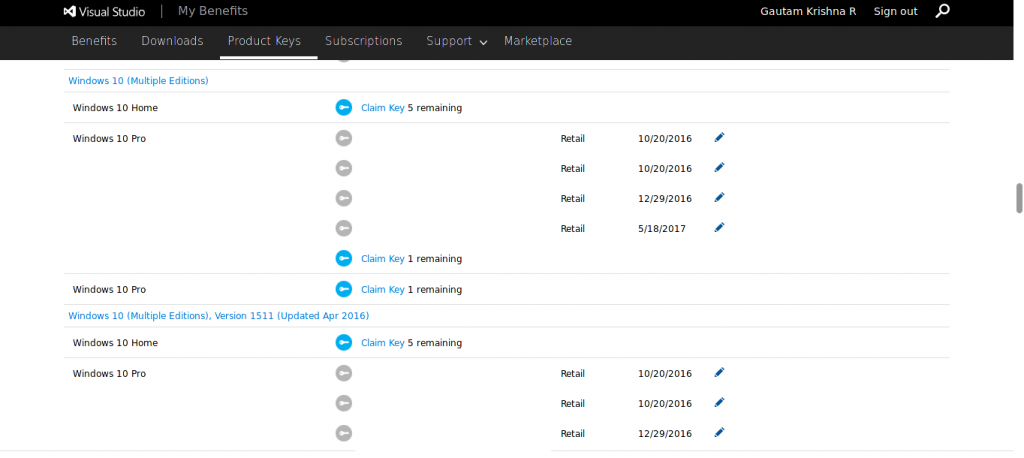 Learn new technologies and programming languages
Being an MSP, you will receive exclusive access to Many online learning platforms like Microsoft E-Learning, Xamarin university etc. It will help you to add up to your skillset and sharpen your current skills.
Networking opportunities
Being an MSP you will be added to an exclusive closed group of MSPs and microsoft employees. You will recieve a @studentpartner.com email ID, it will give you access to the Yammer network and the office 365 portal. Using this email ID you will be eligible for 1TB of microsoft one drive cloud storage space. You will also get a free office 365 with all of its 3rd party extensions. Participating in MS events will allow you to grow your network with MVPs & Microsoft Employees. Whether you have any doubts related to anything under the globe, there will be at least a single person to help you out in our community.
Internship & Recruitments

Microsoft may offer you internships if you perform well as an MSP.  You may also land into a job offer if you are the best.
Boost your resume
Experience being an MSP will be surely the best thing to put in your resume. It will make you stand out from the crowd. It will surely catch the eyes of the recruiters.
Beta testing
Microsoft announces internal beta test for most of its products. As a student partner. if you apply for any of the Microsoft's beta test programs, you have a high chance of being selected. I used my student partner ID to apply for Microsoft's Zo project and I was selected as a beta tester. Being an MSP will keep you updated about Microsoft's new products and its releases.
Swags, swags and swags…
Whether you are attending an MS event or hosting an event, Microsoft will shower you with lots and lots of goodies like tee shirts, headphones, or even a brand new windows phone… 😀
So what are you waiting for? Apply now! 😀
Know more: https://studentambassadors.microsoft.com/